What is Oud perfume oil – Agarwood oil?
Oud perfume oil, Oudh oil or agarwood essential oil is the oil of oud or the oil of agarwood. Oud perfume oil can be extracted from oud wood or agarwood material. There are some methods to extract agarwood oil but the water distillation method and the CO2 supercritical extraction method are the main methods. Oudh oil is the most expensive oil in the world. The price of the pure oud essential oil is very high, even more than gold; it can cost $5,000 per pound – A Fortune report from 2015. Today the price of top-grade quality of oudh oil may up to $1500 per gram. So, it's occasionally referred to as "liquid gold". In this post, Oudwoodvietnam.com will talk about what does oud smell like, benefits of oudh oil, how to make oud perfume oil, and how to use oudh oil.
Due to expensive, rarity, high demand, difficult to buy good quality agarwood material, oud retailers often sell just a 1 – 3 grams/ ml bottle pure agarwood essential oil. And it is enough for daily users to use in 2-3 months because its smell is very fragrant and you only need a little oil. Because it's a non-irritating essential oil, so you can directly apply to your skin.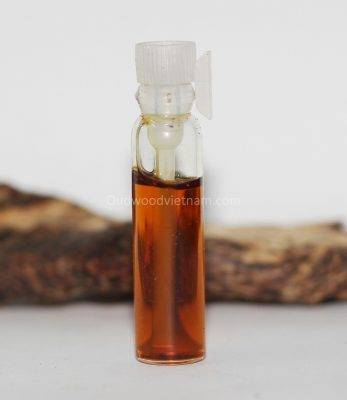 What does oud smell like?
"What does oud smell like?" is the most question that our customer asks before buying our oud perfume oil. It's not easy to describe the smell of oud essential oil. It depends on the quality, origin of agarwood oud material and method used to extract oud essential oil. It is a complex and aromatic scent. The real Oudh essential oil has a gentle and delicate aroma. It is a comfort and warm sweet smell. Oudh essential oil is most often a base note. You can blend with many other perfumes like frankincense, lavender…  for a warm, woody, sweet smell. The best way is you should try it once for your experience and use the way you want. The pure agarwood essential oil is too difficult to extract but really easy to use. And the pure Oudh essential oil has many benefits in spiritual, psychoactive, medicinal, therapeutic fields you should know about. We will talk about Oudh oil benefits in the next paragraph.
Benefits of Oud perfume oil – Agarwood oil?
Oud perfume oil is used in many fields from therapeutic, medicinal to spiritual, psychoactive due to its benefits. Here are some main oudh oil benefits we conclude for your reference:
Enhance meditation:
In Buddhism and Arab culture, agarwood scent is highly effective for meditation, bring deep relaxation. Thousands of years of spiritual, people use agarwood essential oil as a pathway to deeper self and make meditation. Everyone believes that agarwood scent is the good purity offering that Buddhists can offer to Buddha. Arabs use oud products for a thousand years in their history. They also believe that use oud perfume oil daily can remove negative energies, anti-ghost and provides enhanced awareness.
Good for your brain, help with memory and learning:
Because of agarwood oil contains many sesquiterpenes. These sesquiterpenes have the highest grade significantly induced the brain-derived neurotrophic factor (BDNF) exon III–V mRNA expression in rat cortical cells. Therefore, oud perfume oil can help children (who have attention deficit disorder) to concentrate and retain information. Similarly, postmenopausal women and the elderly can suffer from brain fog when using agarwood oil daily.
Repair your skin:
The pure oudh essential oil contains the anti-oxidants. So it will make your skin glow. It will protect your skin from sun damage and free radicals. There will lower risk for skin cancer, sun spots, fine lines, and wrinkles. Oud perfume oil is also an anti-inflammatory agent. Likewise, it useful for any skin conditions that features redness, swelling, irritation or puffiness.
Promote your sleep:
Natural pure oud perfume oil is a natural sedative. Because the oud scent is very comfortable and sweet, especially made of Vietnam oud wood material. It's easy to lead you to a night of deep sleep when you use oudh oil in your bedroom.
Fights cancer:
In the past, many people believe that oudh oil can help you cure cancer. Nowadays, many studies about agarwood give a result that agarwood oud oil is a powerful anti-cancer agent.
How to make Oud perfume oil – Agarwood Oil?
There are two main methods to extract pure agarwood oudh essential oil: the water distillation method and the CO2 supercritical extraction. Each natural oil extraction method has its own advantages and disadvantages. Before talking about them, we want to let you know that the quality of oud perfume oil depends on the quality of agarwood oud wood material. They can be wild agarwood oud wood chips or cultivated agarwood oud wood chips. The origin of agarwood trees may come from Southeast Asia, India or the Middle East. Surely, the quality of wild agarwood oud wood material is better than cultivated agarwood material. Agarwood oud wood from Vietnam is known as the best quality agarwood of the world because of their strong sweet smell.
The water distillation method:
This is the most simple and popular method to extract natural oil. People in the world have used this method for thousands of years. To get high-quality agarwood oud perfume oil, the raw agarwood material needs to submerge underwater for a long time. In oudwoodvietnam.com, we grind to a powder and submerge raw oud wood material with some natural ingredients for 5-8 months before extracting. The advantages of this oil extraction method are simple, easy to apply in your home at low-cost equipment. The dis-advantages are a waste of energy to boil, long time process and some of the ingredients in oud oil may change due to high temporary in the steaming process.
The CO2 supercritical extraction method:
: it is the process of separating oud oil from another component in agarwood material using CO2 supercritical fluid. The advantages of this method are an extract high-quality, purity oud oil without taking time for process raw material. CO2 is non-toxic and acceptable in the oil field. Disadvantages of this method are the cost of equipment.
How to use Oud perfume oil – Agarwood Oil?
Depend on your purpose, oud perfume oil can be used as three main ways:
Use as a perfume product: You can directly apply our agarwood oil to your wrist, skin. Oud oil scent will long-lasting several hours or a whole day.
Use oudh oil as medicine: When oudh oil is used as a medicine, there are many ways to use it. You can blend with other ingredients or use only oudh oil for healthy. Everyone often uses agarwood oil with an oil diffuser.
Use oud perfume oil in religion: Each religion has its own method to use. In Vietnam ancient culture, agarwood oil has been used in each ritual of royal, in temples of Buddhism and in the altar of rich families.