There are two types of oud wood chips or agarwood chips from Vietnam: Wild chips and cultivated chips.
Wild oud chips are almost harvested from tropical forests in the middle area of Viet Nam. These provinces in Viet Nam are famous about quality of wild agarwood chips: Khanh Hoa, Quang Nam, Binh Dinh, Phu Yen, Binh Phuoc, Dak Lak, Gia Lai, Kon Tum, Lam Dong, Quang Binh, Quang Tri, Ha Tinh, Thua Thien – Hue. Nowadays, we also have big plantation agarwood tree areas in Dong Nai, Phu Quoc, Ha Tinh, Quang Binh.
About wild oud wood chips, we collect from foresters in many provinces because of the quantity in Viet Nam now is very low. The wild materials from Viet Nam are different from other countries like Malaysia, Indonesia, India. They are thinner and maybe not dark as Malaysia, Indonesia materials. The smell of Viet Nam material is very sweet. Thin chips and sweet smell are the most different points between Viet Nam material and other countries materials.
Why is agarwood chips from Vietnam thin and sweetsmell?
Why is wild oud wood chips from Viet Nam thin? Because almost wild agarwood chips materials from Viet Nam have a long time lie in the ground or contact and be affected by humid weather. So wood parts in the tree are self-destroyed, only remain resin parts contain agarwood essential oil. The part with high oil density inside is thin.
Why does the smell of wild oud wood chip from Viet Nam sweeter than other countries? It's difficult to explain. Maybe the humid weather and soil in the middle area of Viet Nam answer.
It also explains why an agarwood bracelet with sink and big size of beads is expensive. Because there are no much high oil natural agarwood chips with big size in the forest now. As the same result, the pure oud oil that made of these wild agarwood chips is also expensive. Price of 1ml pure agarwood essential oil in the US market is from $50 to $150. Agarwood is also the most valuable wood or worlds most expensive wood. The agarwood perfume oil is most popular Arabic perfume.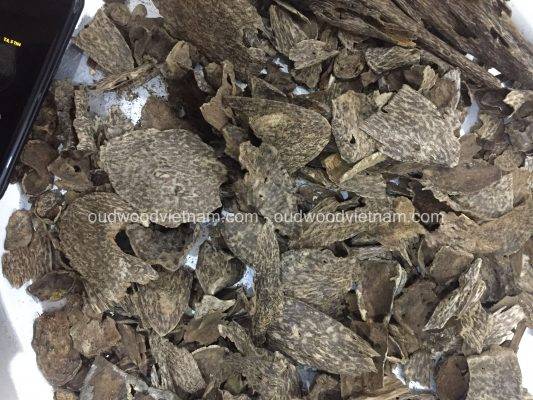 Cultivated oud agarwood chips:
About cultivated agarwood in Viet Nam, the quality is medium. The shape of cultivated agarwood is normally bigger than wild material. The easy way to identify the cultivated material is the drilling hole. Almost cultivated aqualaria trees need drill into and add probiotic or chemical to make agarwood.